Xodus ISO 3 - Women's
Details
'Stiff, clunky, and heavy' might describe your boots, but it should never describe your trail running shoes. New from the ground up, the Xodus ISO 3 takes our award winning cushioning system to the max by making the midsole entirely from EVERUNTM. Add in ISOFIT for comfort, PWRTRAC for grip, and it's time to go discover new views.
Successor to the Xodus ISO 2
Full-length EVERUN

TM

midsole for continuous cushioning throughout the run
Trail-specific ISOFIT dynamic upper
External support frame for added protection and a lockdown heel fit
Engineered mesh
Dual compound PWRTRAC + XT-900 outsole design for rugged durability and traction across a multitude of surfaces
Shoe Category: Trail
Pronation: Neutral
Cushion: Moderate
Construction Type: Trail
Surface: Trail
Arch: Normal (Mid)
Water Resistant: No
Waterproof: No
Offset: 4mm
Heel Stack Height: 26.5
Forefoot Stack Height: 22.5
Weight: 11.5 oz. | 326 g.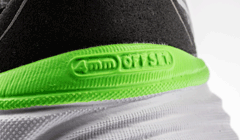 Shoes with a 4mm heel-to-toe offset deliver a more natural ride, letting your feet and body do more work while relying less on the shoes' cushioning and stability features.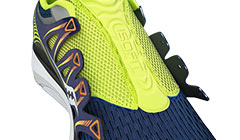 Revolutionary fit system that morphs to the foot for a custom feel.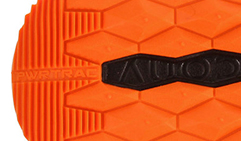 Tacky, durable rubber providing exceptional traction and abrasion resistance.
Part Numbers
| Option | UPC | Store SKU |
| --- | --- | --- |
| Green/Aqua / 7.0 | 884547881588 | SHO484250648 |
| Green/Aqua / 7.5 | 884547881595 | SHO48224158 |
| Green/Aqua / 8.0 | 884547881601 | SHO487823208 |
| Green/Aqua / 9.0 | 884547881625 | SHO484779308 |
| Green/Aqua / 9.5 | 884547881632 | SHO487676678 |
| Green/Aqua / 10.0 | 884547881649 | SHO49663258 |
| Green/Aqua / 10.5 | 884547881656 | SHO494363468 |