Sawtooth X B-Dry Waterproof (Available in Wide Width) - Men's
Details
The Sawtooth X Low Waterproof is even more capable than our beloved original. It has a new outsole for superior traction and a new Adaptive Cushioning Technology midsole for an even smoother ride. But among all this new-ness it retains the same great fit and feel and our B-DRY waterproof technology, so you can be confident taking on the trail, puddle filled or otherwise.
Upper Material
Oiled nubuck
Cordura Fabric mesh
TPU heel counter
B-DRY Waterproof Membrane
100% RPET Repreve Laces
100% RPET Repreve Webbing
Micro-injected PU window
Weight
16.9 oz./479 grams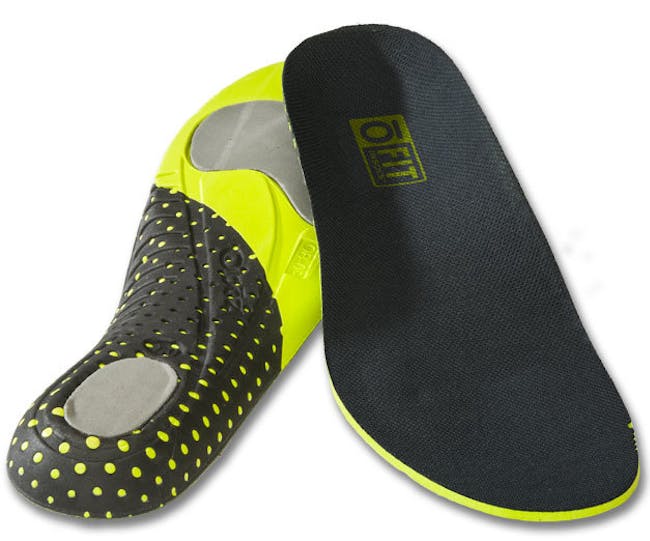 Our proprietary insole is what we're known for. Molded to match the specific shape and construction of every pair we make, this purpose-designed technology delivers the kind of fit, feel and performance that's unmatched in the industry.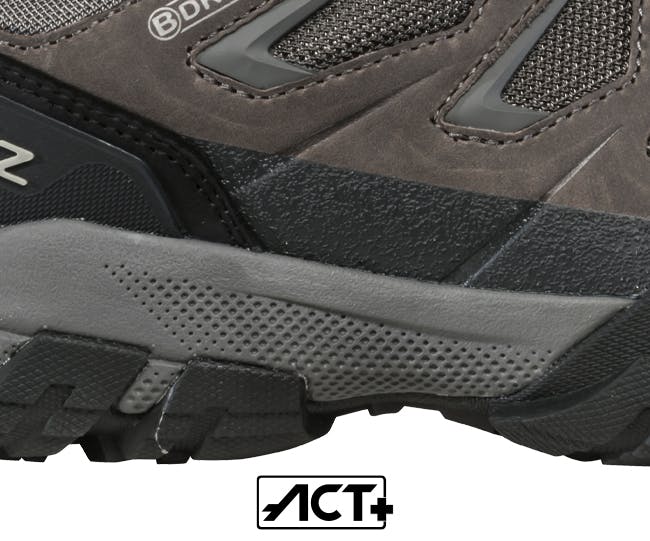 A proprietary rubberized EVA that adapts to varying terrain. This unique blend of dualdensity, lightweight cushioning system provides the wearer a high level of energy efficiency and a softer heel strike landing zone.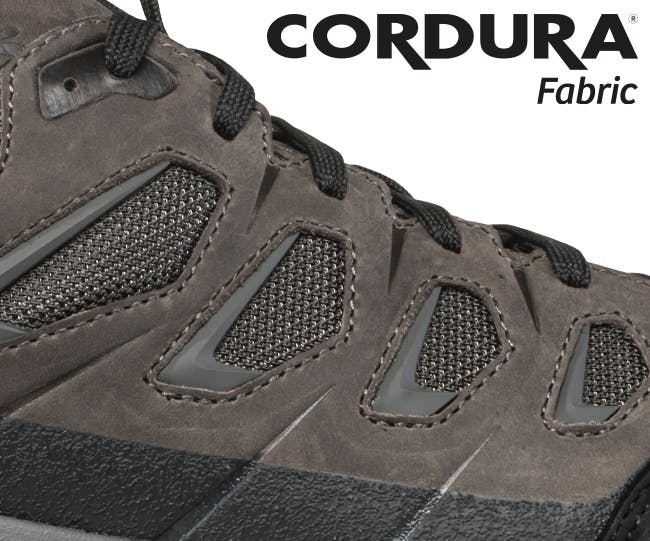 Constructed using high tenacity fiber technologies, weight for weight, CORDURA® AFT fabrics are exceptionally durable.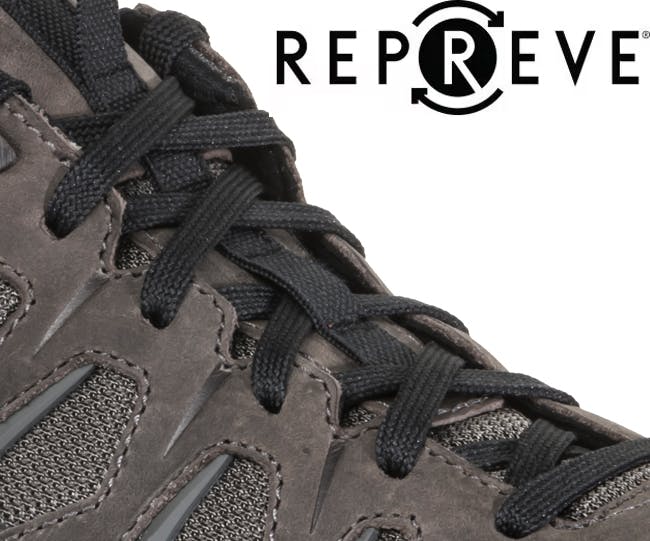 100% RPET REPREVE® laces and webbing and quick drying recycled natural material lining help us lighten our impact on the planet.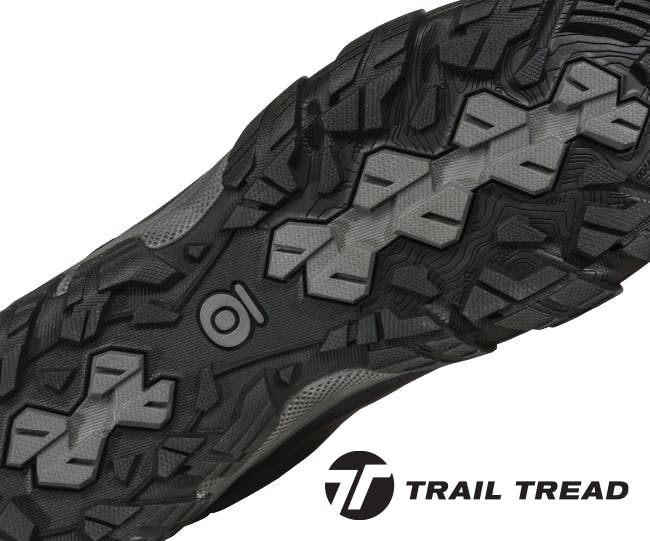 Oboz's most-tested rubber compound boasting superior slip-resistance, enhanced durability, and improved elongation and tensile strength.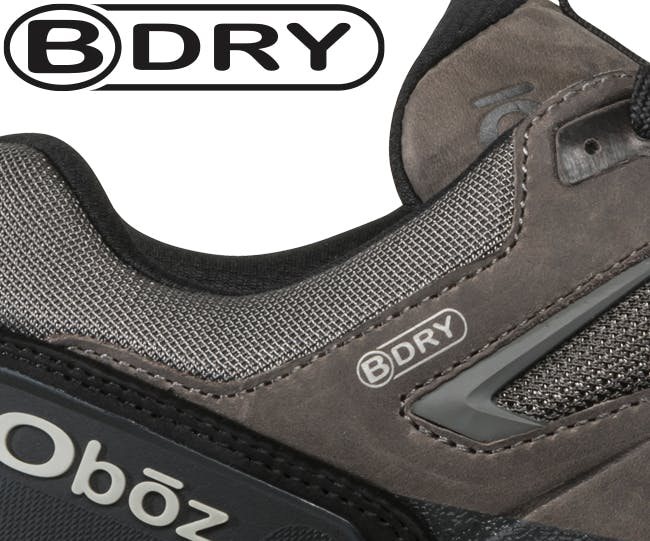 There's no denying feet sweat and trails can get muddy. There's also no denying the ability of our proprietary waterproofing system, B-DRY, lets sweat escape while keeping moisture out.
Specs
| | |
| --- | --- |
| Recommended Use | Hiking |
| Weight | 16.9 oz. |
| Waterpoof | Yes |
| Upper | B-DRY |
| Midsole | Sawtooth X ACT Impact |
| Outsole | Trail Tread |
| Width | Medium, Wide |
| Sustainability | Recycled Iining |
* Subject to change without notice.
Videos
Caring For Your Footwear | Oboz Footwear x Nikwax
Part Numbers
| Option | UPC | Store SKU |
| --- | --- | --- |
| Charcoal / 8.0 / Medium | 840127823850 | SHO484884152 |
| Charcoal / 8.5 / Medium | 840127823867 | SHO48162022 |
| Charcoal / 9.0 / Medium | 840127823874 | SHO481809352 |
| Charcoal / 9.0 / Wide | 840127824291 | SHO527746382 |
| Charcoal / 9.5 / Medium | 840127823881 | SHO482758652 |
| Charcoal / 9.5 / Wide | 840127824307 | SHO522767852 |
| Charcoal / 10.0 / Medium | 840127823898 | SHO494828142 |
| Charcoal / 10.0 / Wide | 840127824314 | SHO533938202 |
| Charcoal / 10.5 / Medium | 840127823904 | SHO499405852 |
| Charcoal / 10.5 / Wide | 840127824321 | SHO539965872 |
| Charcoal / 11.0 / Medium | 840127823911 | SHO499493572 |
| Charcoal / 11.0 / Wide | 840127824338 | SHO535188192 |
| Charcoal / 11.5 / Medium | 840127823928 | SHO494894742 |
| Charcoal / 11.5 / Wide | 840127824345 | SHO53693172 |
| Charcoal / 12.0 / Medium | 840127823935 | SHO492079902 |
| Charcoal / 12.0 / Wide | 840127824352 | SHO533627932 |
| Charcoal / 13.0 / Medium | 840127823942 | SHO493852312 |